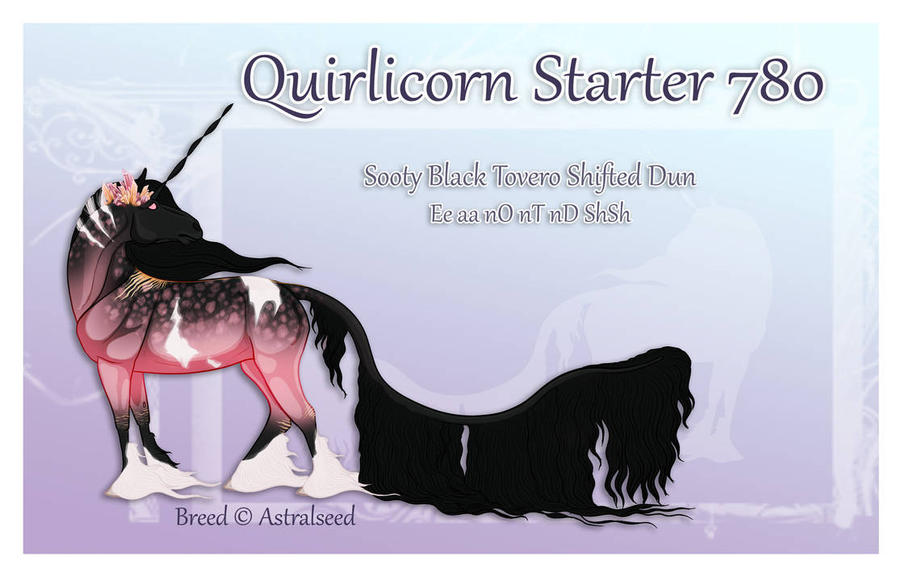 Owner: Quirlicorns
ID: 780
Name: Daze
Gender: Stallion
Breed: Modern Quirlicorn
Color: Sooty Black Tovero Shifted Dun
Genos: Ee aa nO nT nD nSty ShSh
Region: All Regions
Personality:  Daze can be very shy and sometimes even a little bit clumsy.  When he makes friends it's for life and he's fiercely loyal.  Daze enjoys spending his time with woodland creatures and taking in the sun in a quiet field of wildflowers.  Daze doesn't have a mean bone in his body, and is always pondering ways to make the world a better place for everyone. A true pacifist, Daze will put himself in harms way before hurting another.  If you think that Daze is easy to take advantage of, be aware that he has friends who aren't as kind hearted as he. 
Dews: 
1st Magic:
2nd Magic:
3rd Magic:
Astral Magic:
Regional Magic:
Other Magic:
Small Familiar:
Large Familiar:
Guardians:
Land Owned: 
Monthly Incentive: December 2020
Phoenix Touch: 
Lineage: 
Starter
Breeding Slots:
1.  @WalkingDeadStables
2.  @AshTheDreamer || 1928
3.  @Wolv31000
4.  @RebeccaM-Art
5. @illumipyre
6. 
Chime Checks:
Breed © Astralseed
Design ©Astralseed
---
Beep Beep, comin' through!