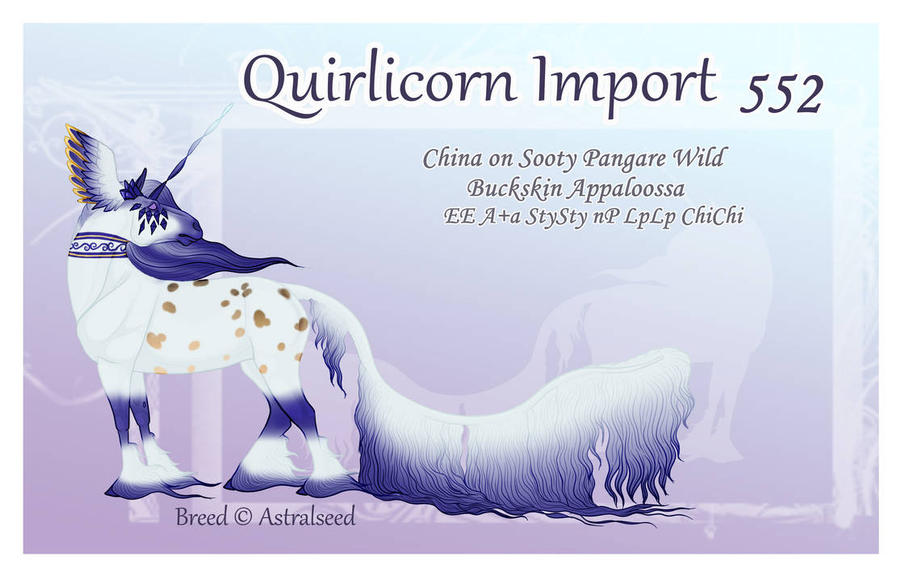 Non-regional design
Owner: Quirlicorns 
ID:
 552
Name:
 Xiang
Gender:
  Stallion
Breed:

Modern Quirlicorn
Color:
 China on Sooty Pangare Wild Buckskin Appaloosa 
Genos:
 EE A+a nCr StySty nP LpLp ChiChi
Region:
 All Regions
Personality

:
Xiang is an elegant refined guy much prefering to spend his time quietly painting or sipping some fine wine to running around on some silly adventure. He is not fond of childish individuals often turning his nose up at them. He enjoys a good spa and makeover day. He HATES getting dirty, and should he ever get a splash of mud on him, you might hear his screams from miles away.
Monthly Incentive:
 Feb 2020
Lineage:
Starter
Breeding Slots:
1. InkedHoofprints 
2. @Wolfie_Sparks || 1919
3.
4.
5.
6.
Designer Slot:
1. @baylili00 || 1966 + 1967
Breed © Astralseed
Design © @baylili00
---